Waterproof tight fitting seat covers from Wet Okole, in fully customizable colors designed specifically for your application!

Wet Okole started out in Hawaii making car seat covers with waterproof neoprene backing that are designed to fit every popular model of car, van or truck. Our neoprene waterproof car seat covers are designed for those with an active life style. Our car seat covers come in a variety of styles that can be customized to your specifications. They do not get hot in the summer or cold in the winter and are strong, waterproof and look like custom upholstery.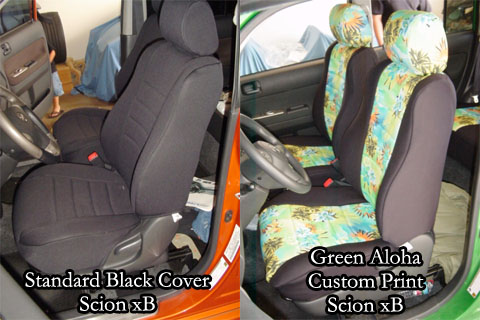 All of our Wet Okole seat covers come with 1/2" foam on the seat and seat back for extra padding and seat protection. Wet Okole are side impact air bag compatible and tested at an airbag lab for compliance. Our Wet Okole completely cover your seats and look like custom upholstery. Fronts can be easily installed without removing you seats, and fit like a glove. We use only the best quality CR 100% neoprene. Our Wet Okole are designed with separate covers for head rests and arm rests.

Wet Okole is the only Seat Cover that has been tested to meet the Department Of Transportation Rule 302 on flammability. Our Wet Okole - boxing (side panels) neoprene is laminated with nylon on both sides, making it twice as strong. No rubber touches your seat material which is especially important with leather or vinyl seats.

These take approximately 2-3 weeks to reach your door step after an order is placed. Each set is custom, made to order.

Our car seat covers bottom and back are bonded to half inch thick foam for added comfort and protection. Our boxing neoprene is laminated with nylon on both sides, making it twice as strong. These seat covers are easy to install and use high quality quick connect fasteners and Velcro.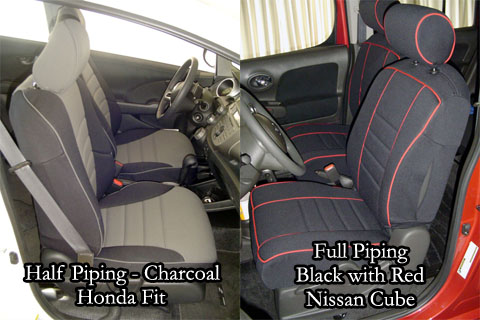 Our neoprene has nylon bonded to both sides for easier installation, better fit and ultimate protection. They are 100% waterproof and fit your seats like a glove. We manufacture our car seat covers in the USA using the finest materials. Wet Okole seat covers are the original water- stain- and snag-proof car seat covers. With over 1,500 custom-tailored patterns in 40 color combinations, we specialize in 40/20/40 and 60/40 split-bench designs.



Full Piping Cover. Includes: Front seat covers with head rests, rear seat covers with head rests.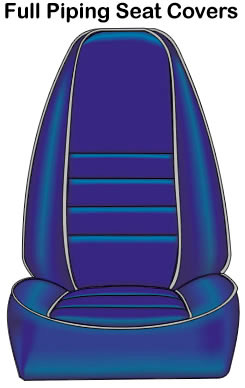 You can choose your custom color for the entire seat cover, insert and outer, from the following:


Choose any of the piping colors from chart below: (choose options at top of this page)