**Currently all Micro-Car Chassis coilovers from TEIN on special pricing, contact us for best price!**
New from TEIN, the Japanese suspension company known for quality, is the BASIC DAMPER Coilover set for the Nissan Cube (09+). With ride height being adjustable and smooth performance for street and track, you can't go wrong with this full set of Tein Basic Coilovers. The set includes everything you need to replace your suspension with a more aggressive setup from Tein.
The spring rates are:
Front: 5kg
Rear: 6kg
Ride Height Adjustment Range:
Front: -1.3" to -2.3"
Rear: -1.4" to -2.4"
We love these so much, we used them on our
ATI x Bean Garage SEMA 2009 Nissan Cube!
Check out the stance on it below.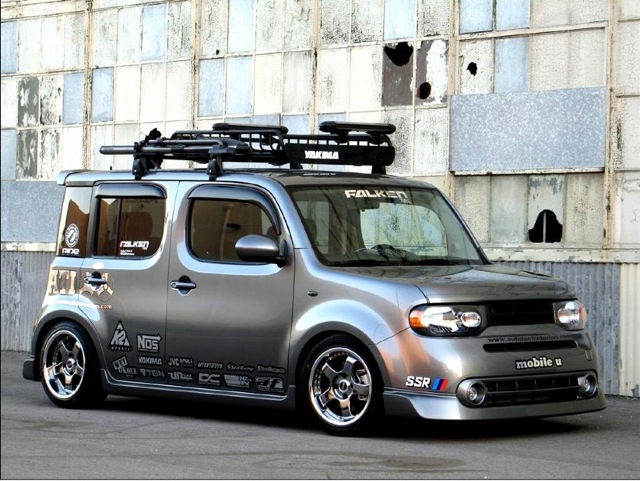 TEIN type BASIC damper offers a high quality coilover system at an entry level price. Drivers will feel in increase in stability, and grip, while maintaining good ride quality on the street and freeway. A shortened shell case is utilized to allow for better ride and improved performance at lowered ride heights. BASIC damper is a great option for consumers wanting a simple and quality made coilover. Each application is test fitted and road tested to ensure the best possible balance between comfort and performance on the street. Includes ride height adjustment to give your vehicle a minor to major drop.
Additional Features:
Steel Construction
Twin Tube internal construction
Larger piston diameter for strut type front and rear (22mm)
Ride Height adjustable via spring seat
Powder coated damper body with Zinc coated threaded section
1-year Manufacturers Defect Warranty
Available for Overhaul
Contents of Damper Kit:
Shock Absorber _ 4
Bump Rubber _ 4
Main Spring _ 4
Hook Spanner _ 2
Dust Cover _x 4 Seat Lock _ 12
Instruction Manual _ 1
Sticker Sheet _ 1