The Ultra Compact 3-in-one Automotive Computer
Trip Computer - Digital Gauges - Scan Tool

The integrated Trip Computer provides realtime feedback while simultaneously tracking three sets of trip data. The Digital Gauges give you realtime data for your vehicle and the built-in Scan Tool allows you to read trouble codes and diagnose potentially expensive problems before they get out of hand.

The ScanGaugeII is an extremely compact automotive computer designed to read and display information about your vehicle in real time.

Simply connect the ScanGaugeII to your vehicle through it's OBDII port using the included cable, turn the ignition key and the ScanGaugeII automatically connects to your cars internal computer - it's that simple. All this in a small and simple to install unit that can be easily moved from vehicle to vehicle.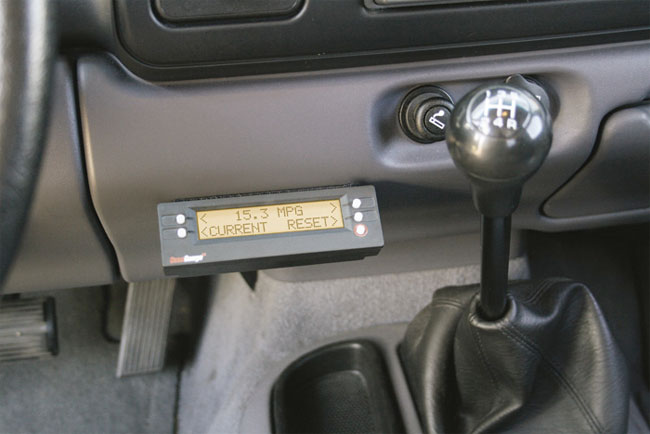 Compact size
Fits almost anywhere!
Works On 1996 & Newer Vehicles
Including: Gas, Diesel, Propane and Hybrid Vehicles
Detachable Cable - Allows for easy portability from vehicle to vehicle.
Menu Driven Operations- No need to memorize complex sequences
Works On All OBDII Protocols - Including CAN, required on all vehicles starting in 2008.
Large High Contrast LCD - User changeable backlight color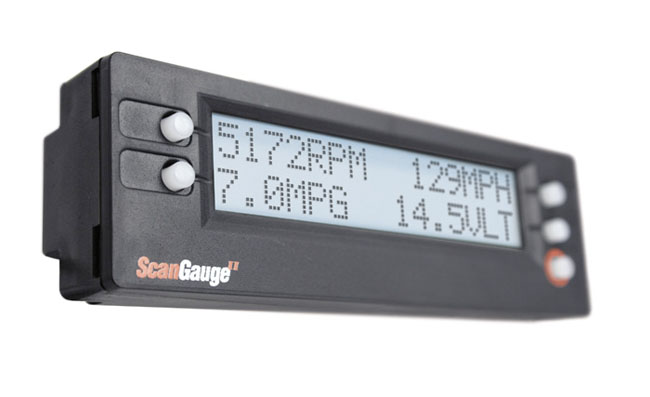 Here's the specific functions that the ScanGauge II provides:
TRIP COMPUTER
Automatically tracks four sets of trip data - Each with 11 individually stored parameters.
Maximum Speed
Average Speed
Maximum Coolant Temperature
Maximum RPM
Driving Time
Driving Distance
Fuel Used
Trip Fuel Economy
Distance to Empty
Time to Empty
Fuel to Empty


DIGITAL GAUGES
Display 4 gauges at a time from the 12 built-in digital gauges. the information is presented in Real-time!
Fuel Economy
Fuel Rate
Battery Voltage
Coolant Temperature
Intake Air Temperature
Engine Speed (RPM)
Vehicle speed (MPH)
Manifold Pressure (not available on some vehicles)
Engine Load
Throttle Position
Ignition Timing
Open/Closed Loop


SCAN TOOL
The ScanGaugeII allows you to troubleshoot your own car, read error codes, and the conditions present when the error occurred. You can also turn off the ñCheck Engineî light and avoid those costly trips to the mechanic.
Reads Trouble Codes
Reads conditions that set the Trouble Code
Clears Trouble Codes
Turns off the "Check Engine" light
Tells you when vehicle is "Ready" to pass OBDII testing
Make and store up to 10 rewritable special codes to send to the vehicle computer